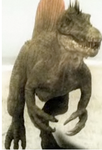 THIS ARTICLE IS VERY OUTDATED'''
This article is unrealistic. Do not trust this page as good information.
 VERY OUTDATED 
Deinonychus was a species of raptor dinosaur that was featured in the episode "Great American Predator", where it had scared off a young Acrocanthosaurus [118-96]. It was larger than most Late Cretaceous raptors, but nowhere near as large as either Utahraptor or the recently discovered Dakotaraptor.
Errors
Deinonychus is shown without feathers, even though scientists now agreed that raptors dinosaurs have feathers.